On November 9, 2017, for the third time in the east of Ukraine in Kramatorsk, Open House Day was successfully held at Hermes Agrofirm LLC, which produces certified organic fertilizers and is a member of the Organic Movement Federation of Ukraine.
About seventy participants from different parts of Ukraine visited this successful enterprise and had a great opportunity to get acquainted with innovative and alternative approaches to agricultural technologies for growing the main crops of the zone of not only risky farming, but also of the frontline zone.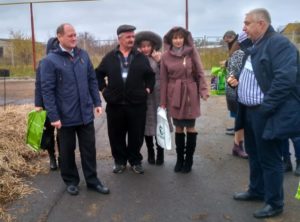 The hospitality of the hosts was felt by all the participants in the event, because the Open Day program was very full of various events. At the beginning, these were not only speeches and comments of agronomists of the Hermes Agrofirm on their own products and users of Gumisol fertilizers, but also scientists of the National Scientific Center A.N. Institute of Soil Science and Agrochemistry Sokolovsky ", Donetsk State Agricultural Experimental Station of UAAS, representatives of leading companies in the system of integrated plant protection, breeding companies.
Of particular interest to agricultural producers were reports on organic production by the Executive Director of the Federation of Organic Movement of Ukraine Andriy Konyashin and a representative of the Institute of Soil Science and Agricultural Chemistry named after A.N. Sokolovsky Larisa Shedey. The specifics touched upon topics and the fact that more than 80% of the preparations of Hermes Agrofirm are already certified according to organic standards and are approved for use in organic production.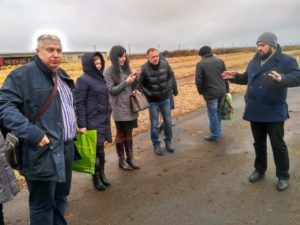 The highlight of Open Day was an excursion to the production of the enterprise – under the slogan "Chronology of success." The head of the Agrofirm Gennady Zdor stubbornly spoke about the successes of the formation of the team, achievements in expanding the assortment and the consistently high quality of products sold not only in Ukraine, but have been exported to the European Union for many years.
The production and quality control of fertilizers Gumisol told the participants the technologist and the head of the laboratory. Maxim Khodushko very interestingly introduced guests to vermiculture and the California worm, which works effectively for the benefit of the enterprise.
During the meeting, the participants had the opportunity not only to take part in interesting discussions, but also to find the answer to the question about agricultural technology or the use of auxiliary means in agriculture.
The draw of prizes from the organizers and partners of the event, as well as the festive buffet reception organized by the forces of the Hermes Agrofirm team did not leave indifferent guests.