June 04-07, 2019, within the framework of the International Exhibition "AGRO-2019", the annual Specialized Organic Products Exhibition "ORGANIC-2019" was successfully organized by the Federation of Organic Movement of Ukraine jointly with Promfininvest and the Ministry of Agrarian Policy and Food of Ukraine.
Exhibition "ORGANIC-2019" was held with the support of: Project "GERMAN-UKRAINIAN COOPERATION IN THE ORGANIC AGRICULTURE INDUSTRY", LLC "Trade House" BTU-CENTER ", LLC" DEDDEN AGROPAN, AGRO Brands "PAN EKO", LLC "ROSANA" and LLC "Agro firm" HERMES ".
Information support of all organic events during the exhibitions "AGRO" and "ORGANIC", of course, was provided by ORGANIC UA.

Given the growing demand for organic products worldwide and in Ukraine in particular, with the aim of widespread promotion of advancements in organic production, demonstrations of advanced organic technologies from about forty Ukrainian producers from different regions of Ukraine presented their achievements, innovative products and perspectives to the general public. experience in the field of organic production.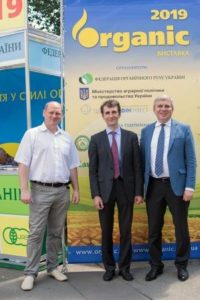 For the eighth time, the Organic Exhibition attracted the attention of AGRO visitors, standing out among the variety of agricultural machinery with its light green colors and bright participants!
Manufacturers of auxiliaries for use in organic agriculture, understanding the growing needs of the market in biological protection, organic fertilizers, etc., have introduced a wide range of domestic products for the crop and livestock, beekeeping. Already traditional participants in the organic alley were: Institute of Agricultural Microbiology and Agroindustrial Production of NAAS of Ukraine (Chernihiv), LLC "Master Pipe" (Dnipropetrovsk region), LLC "Agrofirm" Hermes "(Donetsk region), LLC" Innovative company Bioinvest-Agro »(Kyiv), FOP Zaporozhets IV (Kyiv), FOP Osipenko SB (Kherson region), LLC "Bio Center" (Odessa region), LLC "BTU-Center" (Kiev), LLC "Oriy" (Kiev), PE NPP "VIVAT" (Kherson), NDVP "Autonomous family farmstead »(Zhytomyr region), FOP Abselamova E.Kh. (Kyiv region), FOP Oliferchuk SP (Lviv), LLC "STOLLER" (Kiev), LLC "Research and Production Company" Avatar "(Kiev).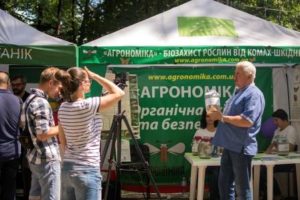 New this year was the participation in the ORGANIC-2019 manufacturers of entomophages, PE "AGRONOMIKA" (Kamyansky district of Cherkasy region) and LLC "ROSANA" (Kiev). Experts estimate this as another evidence that the revival of the national scientists in this field will only contribute to the development of safe agricultural production. It is the entomophages that are the natural means of pest and parasite control by eliminating the latter through increased environmental response. Betting on the natural fight for survival, in particular, entomacacaragia migrate to insects that are undesirable for cultivated plants, thereby seeking to destroy the pests by other insects that do not harm the crop.
Another interesting news for farmers is the technology introduced by Svetlik Green Village s.r.o. (Czech Republic), the official distributor of GrainPro in Ukraine and Moldova. These are innovative methods of packaging, storage and transportation of products that would help ensure its high quality and minimize losses without the use of chemical fumigants banned in the organic sector. The introduction of green technology for the storage, packaging and transportation under carbon dioxide (CO2) of any food with a moisture content not exceeding 18% this year can have a significant macro-economic, environmental and social impact.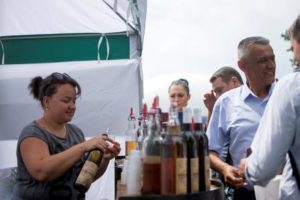 Despite the traditionally high interest of agro-producers in auxiliaries for organic production, organic food producers were also widely represented in ORGANK-2019. Exhibition participants and visitors had a great opportunity to taste and purchase high quality and safe internationally certified organic products. And this is a significant range of products: oils and grains from ZPP Zorya (Zhytomyr region), berry paste from TM LiQberry from Kherson region, juices and drinks from TM PAN EKO from Transcarpathia and FSH "Golden Parmen" from Chernihiv region, of course, wine and grappa from FG "Pearl Strumka" (Tatarbunar district of Odessa region), oils from LLC "Ukroliya" (Poltava region) and PE "NPF" Elitfito "(Ivano-Frankivsk), cereals, cereals and flour from LLC" Company DIAMOND LTD. »(Poltava region), grain group, as well as tonic hemp lemonades from LLC« Arnika Organic »(Poltava region), cereals and marvels delicious baking from the Lipkovat Agricultural College (Kharkiv region), unique organic ice cream from LLC "Rud" Trading Company from Zhytomyr, strawberries, asparagus and other vegetables, as well as sugar from LLC "DEDDENS AGRO" (Rivne region).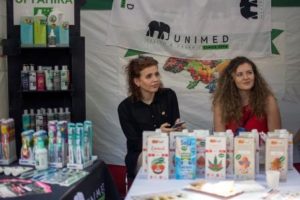 For the second year in a row, Unimed Organic LLC (Kyiv) presented at the exhibition a wide selection of organic cosmetic products from both Ukrainian manufacturers and products of its own import, including juices, cereals, teas, spices, skin and hair care products, as well as home care products.
Participation in the ORGANIC-2019 exhibition and VIP Group LLC (Kiev), a company that provides consulting services for organically market operators both on production issues and export-import operations, became extremely useful!
Summing up the four exhibition days, we again note the considerable interest of farmers in the organic sector! Considering also the numerous measures in the business program AGRO-2019 on organic matter, observing the growing opportunities of the domestic organic producer, we can say that organic production is a priority direction of agriculture of our country! This is exactly what the "ORGANIC-2019" exhibition demonstrated in practice!
The next national event, which will bring together only the best Ukrainian producers of organic produce, will be the All-Ukrainian Organic Products Fair, which will be held on Contract Square in Kyiv on September 14, 2019 as part of the next Organic Week in Ukraine.